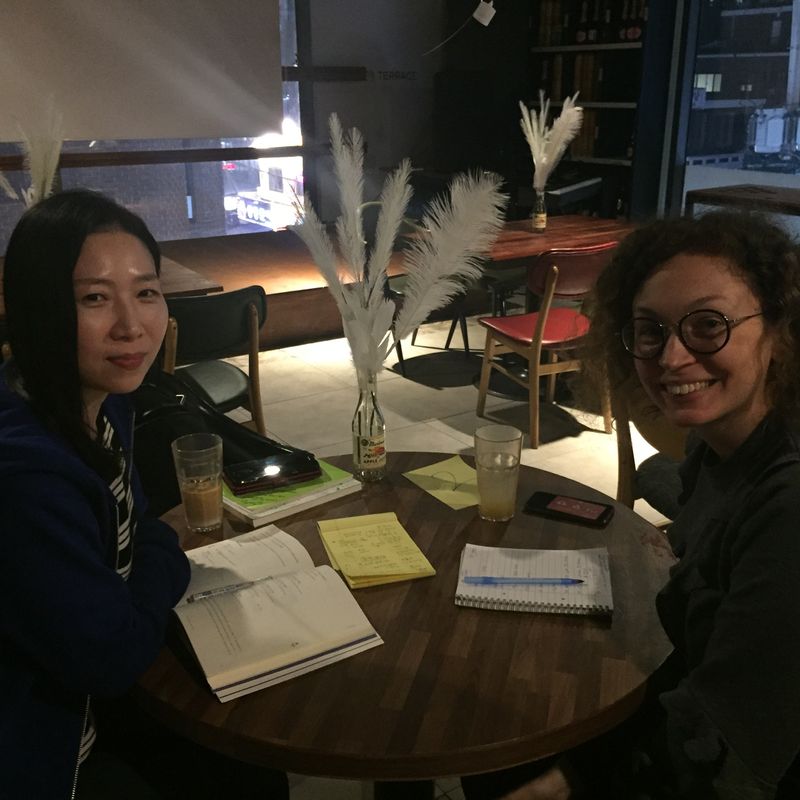 Invite a friend to hilokal.com
When they make their first purchase,
you will both receive a credit for 5,000₩.
Description
⚠️You must register to get a lesson. Otherwise we can't prepare your teacher ⚠️
What kind of lesson is this?
Learn to speak Korean through repetition. 1 on 1 Korean lessons. If another student is the same level 1 on 2 is possible.
▶️LEVEL: 9 distinct levels. Korean Alphabet to Advance News articles
▶️TEXTBOOK: Talk To Me in Korean Textbooks (provided). You may also bring your own contents
▶️TEACHERS: Korean Natives who are like your Personal trainer
We call this class The Korean Gym, because it's more about training Korean than studying Korean. We offer 1:1 and 1:2 classes.
The teachers are more like Personal trainers than lecturers. You don't need any prior Korean to join this class. Anyone can join. We have levels ranging from Korean alphabet to advanced News articles.
Your job is to show up, read the opening paragraph of the lesson, and then follow the teacher who will take you through guided quizzing and drills. Your job is also to ask questions and be a pro-active Korean learner!
Following the Korean Gym, we offer a language exchange where 30 - 100 people (depending on the day of the week) will socialize over drinks People in this language exchange typically speak Korean or English. This language exchange is included in this ticket price.
Just find the date and location most convenient for you. Then you can pre-book with the Korean Trainer who suits you best. If there are no trainers currently available, you can book anyways and we'll match you with one of our many trainers who are on stand-by.
Event Timeline
| Time? | What? |
| --- | --- |
| 2:00 PM | Korean Lesson |
| 3:00 PM | Enter Social meetup |
| 4:00 PM | Social meetup Table Rotation and Lottery |
| 5:00 PM | Free Socializing |
| 6:00 PM | Event finishes |
Reviews

김성희
2020.01.05
학생분은 미국에서 오신지 얼마 안 되셨고 한국어 레벨은 beginner 이셨습니다. 그래서 level 2 책을 골라서 자기소개 표현을 공부해 보았습니다. 이름, 직업, 나이 표현들을 공부했는데, 표현 문장들을 발음하고 이들을계속 말해보는 연습을 했습니다. 앞으로 이 자기소개 표현들을 말할 목표 때문에 성취감이 느껴지는 시간이었습니다.

Skylar Jang
2020.01.13
It was a great Korean lesson. The student was enthusiastic and wanted to learn as much as possible. And I was pleased that his attitude of learning Korean.
Sarah Lide
2020.01.14
It was great to meet so many new people and learn some Korean as well!

Colin
2020.02.04
Teacher was very friendly and helpful. Great place to practice Korean one-on-one and chat with locals.

Colin
2020.02.09
Great lesson and teacher!

Colin
2020.02.18
Great! Teacher prepared special reading to study.