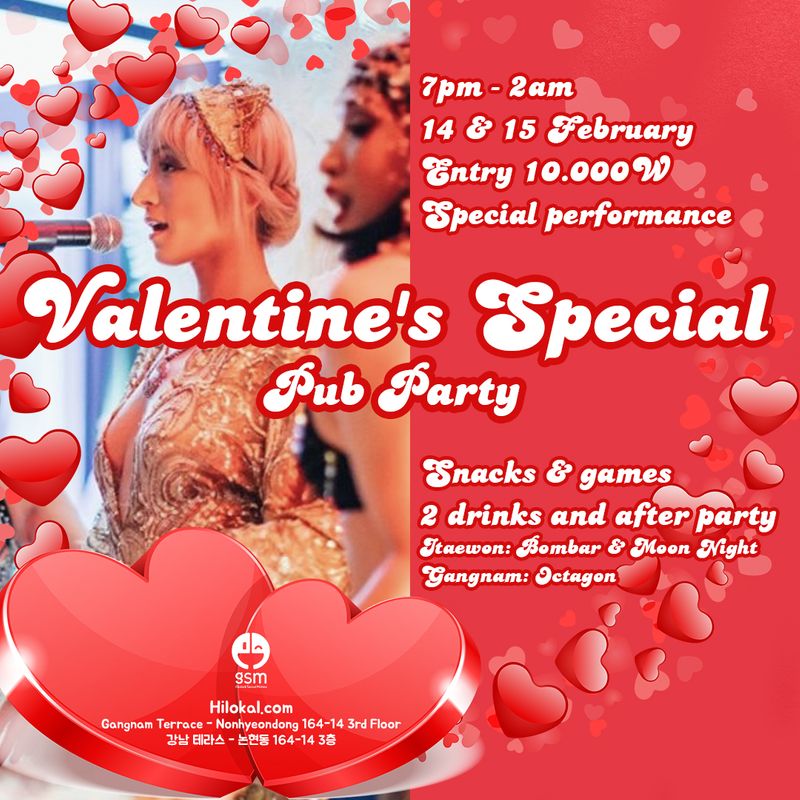 Invite a friend to hilokal.com
When they make their first purchase,
you will both receive a credit for 5,000₩.
Description
Details: This Weekend's Theme: Valentine's Special
This is Valentine's weekend and so we've got a great party for all you singles who are ready to mingle. We'll have a very sexy band coming into Gangnam, and we'll prepare a great ambience in Hongdae. You can expect hundreds of people from around the world. The atmospehre is always really lively and you'll be able to meet like-minded people and connect over a drink.
After Party
Some other big news, we've got Octagon as a free afterparty! You'll just need to have our GSM Stamp and you can get entrance. Octagon is a worldclass club in Gangnam. Make sure to dress up well because they have a high standard for entry which we cannot control.
In Itaewon, we've got boombar which is a hiphop club. We've also got Night Moon which is a new up and coming club / lounge that offers 1 free drink to all GSM guests.
Octagon: 645 Nonhyeon-ro, Nonhyeon-dong, Gangnam-gu
Boombar: Seoul, Yongsan-gu, Hannam-dong, Itaewon-ro, 211
Night Moon: Seoul, Yongsan-gu, Itaewon 1(il)-dong, Itaewon-ro 27-gil, 6 4 floor
GSM Terrace, Gangnam?
GSM Terrace is a very friendly place with over 100 seating. It's usally full by 9pm, so come early to get a seat. This bar is dedicated only for these international meetups so we really know how to host great parties.
What can I expect?
You can expect themed decorations, snacks, a delicious themed cocktail and a special performance. At 10pm the The DJ will tracks.
GSM is a social bar. The main focus is sitting down at new tables and meeting new people. Most people will be speaking English and Korean but there are many other nationalities that join. There are about 30% foreigners and 70% Koreans, mostly workers, students and travellers in their 20's and 30's.
Feel free to stand up and move around and sit at different tables There is darts, beer pong and lots of drinking games. The staff and guests are all very friendly.
We're proud to have connected so many people from around the world, right here under this Terrace roof!
Feel free to come alone or with friends. Coming late or leaving ealry are both fine.
Group discounts available only at https://www.hilokal.com
Event Timeline
| Time? | What? |
| --- | --- |
| 7:00 PM | Cafe opens, Guests enter |
| 8:00 PM | Getting full |
| 9:00 PM | Peak Time |
| 10:00 PM | DJ Start |
| 11:00 PM | Meet new people until close! |
Reviews

Sigrid Marita Kvamme
2020.02.17
A great opportunity to meet people and have fun. Good drinks as well and music!